I got given a proof of this lovely book when it first came out for a review. I probably left it a bit longer than I should have to review it, but it was such a good book I knew I had to post my thoughts, even if late!
Here it is: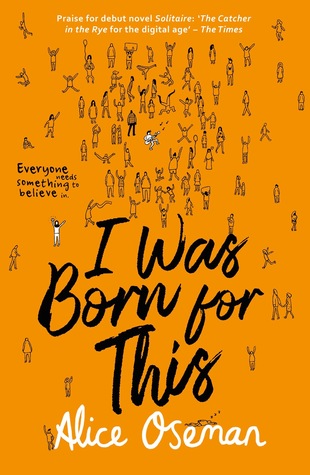 For Angel Rahimi, life is only about one thing: The Ark – a pop-rock trio of teenage boys who are currently taking the world by storm. Being part of The Ark's fandom has given her everything – her friendships, her dreams, her place in the world.
Jimmy Kaga-Ricci owes everything to The Ark too. He's their frontman – and playing in a band is all he's ever dreamed of doing. It's just a shame that recently everything in his life seems to have turned into a bit of a nightmare.
Because that's the problem with dreaming – eventually, inevitably, real life arrives with a wake-up call. And when Angel and Jimmy are unexpectedly thrust together, they will discover just how strange and surprising facing up to reality can be.
This book was like a blast of nostalgia from my teenage days when I had some serious fandom love - though I admit it was less boybands for me more books/films like Twilight. Though I did have a love for Blue, McFly and Busted! I will happily admit that.
It isn't often that I go to the contemporary side of YA, but I decided to start branching out - and so far nothing in this side has disappointed me - and they always make such a refreshing change from my usual fantasy YA. I also loved to see a take on modern day fandoms, as I was mainly a big fan when social media was just starting out so it was definitely interesting to read about this when social media is a lot more prevalent now and so I feel like fandoms are more investing than they were.
My favourite character had to be Jimmy. I loved him from the start, and kept on loving him throughout. I also haven't read a book where a MC deals with anxiety as intense as he did, so I think it really helped me to connect with him - you saw everything both his ups and downs and that was something that I think made the book so good.
Overall, I give this 4.5 cats. It was an interesting read, and I think I'll have to try some of Alice Oseman's other books too!
Have you read this book? Who was your favourite character? Comment below!