I was asked to be a part of the blog tour for Ace of Shades by Amanda Foody, which comes out today! I'm so excited to share my review with you all!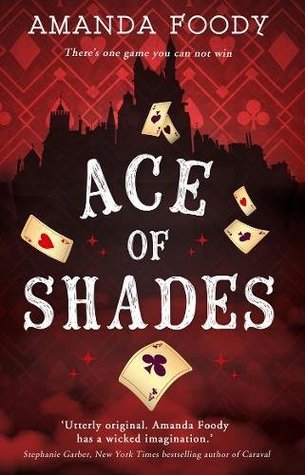 Welcome to the City of Sin, where casino families reign, gangs infest the streets…
and secrets hide in every shadow.
Enne Salta was raised as a proper young lady, and no lady would willingly visit New Reynes, the so-called City of Sin. But when her mother goes missing, Enne must leave her finishing school—and her reputation—behind to follow her mother's trail to the city where no one survives uncorrupted.
Frightened and alone, her only lead is a name: Levi Glaisyer. Unfortunately, Levi is not the gentleman she expected—he's a street lord and a con man. Levi is also only one payment away from cleaning up a rapidly unraveling investment scam, so he doesn't have time to investigate a woman leading a dangerous double life. Enne's offer of compensation, however, could be the solution to all his problems.
Their search for clues leads them through glamorous casinos, illicit cabarets and into the clutches of a ruthless mafia donna. As Enne unearths an impossible secret about her past, Levi's enemies catch up to them, ensnaring him in a vicious execution game where the players always lose. To save him, Enne will need to surrender herself to the city…
And she'll need to play.
This book really sucks you straight into the action. You get thrown right into the deep-end with this, as you follow Enne, the main character, into the City of Sin for the first time, so I felt like I was learning everything with her. I do admit though, it did feel like there was a lot of information thrown at me and I took a while to catch up at the beginning - but as soon as I started to understand everything I absolutely fell in love with this world.
I think if I had to sum up this book in a sentence it would be: a fantasy, dark and twisted version of Vegas all wrapped up in glitz and glamour. Bit of a mouthful I know, but that is essentially what I thought whenever I jumped back into this book - well that and it was fascinating. I think that if you are a fan of Caraval you'll definitely like this book, it has the same kind of vibes!
The thing I adored most was the relationship between Levi and Enne - it didn't jump right in (and I usually like that kind of thing) but instead it took time to build and I felt like it was more real than most relationships I read about, and I will forever be routing for them in any future books - they're just so cute together. And some of the scenes between them were absolutely beautiful and had me so wishful for something like their relationship. I think the one line that made me feel like that was when Levi said to Enne: "You impress me every time I'm with you". Such a simple line, but it stuck with me for some reason.
But, I can't keep talking about the ship, even if I wanted to! I also have to talk about Enne. Her character development was so complex and you could really see her developing throughout the whole book from one thing to another, from her old self to her new self - and I really can't wait to see where Amanda Foody takes her in the next book, especially because by the end of the book she really comes into herself and sees herself as new - the description of this is fascinating, as I'm sure you'll see when you read this book yourself.
I could talk about this book so much - I've even got little post-its in my book for bits I loved too much to forget, but I'll just say this: it's an intriguing book, full of mystery and little dark pleasures, and you should definitely read it if you get the chance. I give this book: 5 cats!
Thankyou to the HQ team for letting me be a part of this blog tour! Comment below if you liked the book or are planning to read it!