Okay, I bought this book because I'd heard so much about this author, and especially this book, so I picked it up when I saw it in Costco. I didn't get around to reading it for a while though, and putting words into my review took even longer, which is a shame as it was such an inspiring book!
Here it is: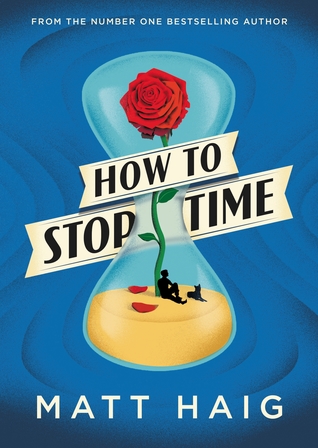 I am old. That is the first thing to tell you. The thing you are least likely to believe. If you saw me you would probably think I was about forty, but you would be very wrong.
Tom Hazard has a dangerous secret.
He may look like an ordinary 41-year-old, but owing to a rare condition, he's been alive for centuries. From Elizabethan England to Jazz Age Paris, from New York to the South Seas, Tom has seen a lot, and now craves an ordinary life. Always changing his identity to stay alive, Tom has the perfect cover - working as a history teacher at a London comprehensive. Here he can teach the kids about wars and witch hunts as if he'd never witnessed them first-hand. He can try and tame the past that is fast catching up with him.
The only thing Tom mustn't do is fall in love.
How to Stop Time is a wild and bittersweet story about losing and finding yourself, about the certainty of change and about the lifetimes it can take to really learn how to live.
I'd heard so many good things about this book before I bought it, and I loved that it would include both current day and historical sections from the life of the narrator Tom. I always have liked books that bring different timelines, and this one was even more interesting because it brought a lot of different times in history into one book! I think that Matt Haig really managed to bring the reader into the different times, as well as making you feel like you meet all the different historical figures dotted throughout (like Shakespeare or Scott Fitzgerald), and it's not often that you can find a writer that manages that.
It did take me a while to get used to the fact that the MC was still narrating from the modern day at points in the chapters about past events, but I quickly got used to it, and actually started to like that style of writing after a while. I really adored the history parts of this book - it gave you such an insight into how Tom's life had gone, and I really connected with him because of that.
Most of all I think I loved this book because it made me nostalgic. There is one chapter specifically, where Tom goes back to his hometown in London that really made me think of all the times I'd talked with my Grandparents, and how they would tell me how much had changed about the town they lived in since they were younger. It was a new feeling from a book - nostalgia - and I adored that feeling, it made me smile.
I admit that this was the first book from Matt Haig that I had read, and from it I am definitely going to read the others. If they're anything like this book, then I'm sure they will blow me away with how powerful and thought provoking the writing will be. There are so many beautiful quotes in this book that really got me thinking - not something that often happens in a book for me. I definitely have to try reading more adult fantasy books in the future if they're as good as this one.
I give this book: 5 Cats (and more if I could)
Have you ever read this book? I highly recommend it if you haven't! Comment below.