This is definitely not one of my usual reads, but as I have started branching out and everyone was talking about this book I decided to give it a try - especially with such a beautiful cover. So, thanks to Netgalley who gave me a copy of this book in exchange for a review!
Here it is: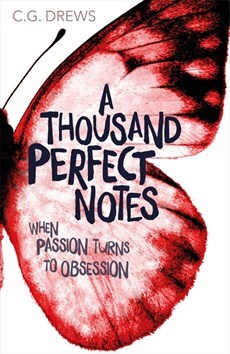 An emotionally charged story of music, abuse and, ultimately, hope.
Beck hates his life. He hates his violent mother. He hates his home. Most of all, he hates the piano that his mother forces him to play hour after hour, day after day. He will never play as she did before illness ended her career and left her bitter and broken. But Beck is too scared to stand up to his mother, and tell her his true passion, which is composing his own music - because the least suggestion of rebellion on his part ends in violence.
When Beck meets August, a girl full of life, energy and laughter, love begins to awaken within him and he glimpses a way to escape his painful existence. But dare he reach for it?
Okay let me just say how amazing this book was. I've been in a small slump lately where I do read, just not much and not very quickly. But this book threw the slump out the window - I finished it within a few hours, it was an unputdownable book in my opinion!
But, when a book starts with the MC talking about wanting to cut off his hands, you know you're going into something that will definitely be interesting, so it wasn't too much of a surprise that I adored it so much.
It usually takes me quite a while to get into a male-narrated book, I'm so used to female POVs I guess, but I connected with Beck so quickly. I loved his character, and the slight development that was slow-going but definitely there - I think because of August mainly. Which is another thing I loved - their relationship. It was so pure and refreshing to see something that didn't just jump into anything big. To sum-up I just love so much about the characters in this book, they were developed perfectly.
The ending of this book though is the thing that made this for me - I was close to tears it was so perfect. Overall, I think I could describe this book as so amazing it left me speechless - I don't think I can do it justice in my review, so I'll leave it here.
I definitely give this book 5 cats - it was just what I needed to recharge my book batteries!
This amazing book comes out in a few days (7th June) - I highly suggest you go buy it! If you've read it or plan to read it comment below, I'd love to hear your opinions!