Yet another wrap-up for a busy travel-reads month! Some great things have been read and reviewed, and these are just a few of them with some mini-reviews attached.
Ruins (Sentinel #2) by Joshua Winning
I loved the first book in this series, but with so much to do it took me a while to get round to reading this which was a shame as it was even more action packed than the last book was, and kept me hooked when I had time to read.
I loved meeting all the new characters - my favourite being Nale with his faithful dog Zeus - and it was definitely interesting to see a few new POVs too - specifically Rae and Dawn (though Dawn's POV didn't last too long). I always think it's nice to get some back stories - and this book done that perfectly, which really helped me to connect to the characters a bit more. Though, I admit I still would have loved to see more of Malika's backstory!
Plus, I think this book was left in the most enticing way possible - it made me want to read the next one ASAP - but I'll be saving it for a little while longer. I give this book 5 cats!
Ariadnis By Josh Martin
I got this book when I went to Drink YA in one of the goodybags, and it looked so interesting that I picked it up relatively quickly considering my TBR pile is getting larger and larger. I loved the premise, and the plot kept me hooked wondering just where this would turn out.
I think the one downside I could find was the short chapters, switching between the two MCs did confuse me a bit at first because I got a bit confused as to who was who and trying to figure out the two different cities, but I got over that and then I got sucked in.
I think one of the cutest things were the illustrations of the MCs on the back inside cover, they really helped me to imagine everything, that and the illustration of the two cities before the book started. Overall, definitely an interesting read, and I saw there was another book in the series which I will definitely be picking up! I give this book 4 cats!
Ascension by Victor Dixon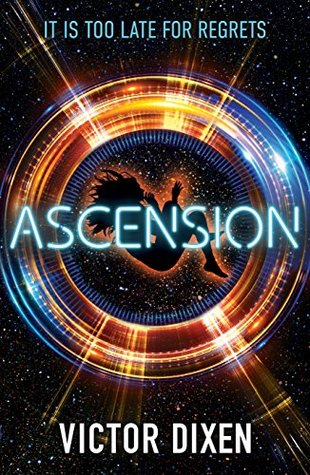 So, I got this on Netgalley, and then won a finished copy in a competition on twitter, but I was a bit late to read it. Which is such a shame because it was amazing.
I've not read many space books, but it seems to be something that's coming back, and I kinda love it because there are so many takes on space to go for, and this was just one amazing take on space travel. Speed dating has always interested me - how can you possibly meet someone and decide so quickly on if you like them or not? - and add in a bit of space this made this such an interesting read!
I already want the next book, even though this has just come out, and I can't wait to see what will happen to everyone after the crazy conclusion! I give this: 5 cats!
Under a Sardinian Sky by Sara Alexander
I got invited to a HQ event, where they showed off some upcoming books. A lot of them weren't my usual (AKA they were adult fiction not YA) but I picked up lots of new books including this one.
I adored it. That's all that I can say really. It was such a nice refreshing read, just what I needed when I was in a bit of a YA slump, and it made me really just want to go to Sardinia to see if it's as beautiful as the author described it.
I think what I liked most about this book was the fact that it was a mix of historical and modern day, which is something I do love in books, and it also had a tiny bit of mystery so I was left guessing what would have happened to the MC throughout. Plus, it was so nice to go back to a romance read, I used to read them a lot more a few years ago, but got into Fantasy after a while instead.
Overall, I give this 5 cats! I'll definitely be reading more like it (and I picked up the authors next book so that will be interesting!)